Description
Unique Features
Optional Data Acquisition Case (DAC)
Each DAC is recording voltage of up to 12 cells. It has wireless communication with K-3980 battery load bank main unit and PC. And it is capable to measure all type of batteries (1.2V, 2V, 6V & 12V). Kongter also offers customized DAC for other battery types.
DAC numbers are easily expandable to cover more battery volumes.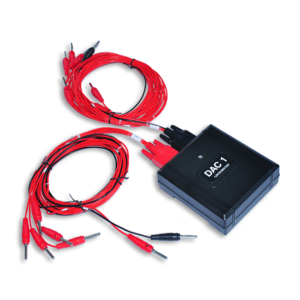 Its Connection>>:
One DAC could be connected with 12 cells of 1.2V, 2V or 4 cells of 12V (or 6V). Therefore, in different battery systems, they require different amount of DACs during battery discharge test. With DAC, K3980 and Kongter PC software will be able to monitor and record voltage of each cell together with other parameter like String Voltage, Current, Discharge Capacity and so on.
Connection with 1.2V or 2V cells:


Connection with 6V or 12V cells:

Kongter PC Software
All standard battery load bank units of K3980 come with PC software. With the software, you have a real-time data monitoring, analyze the testing data and easily print out the complete report.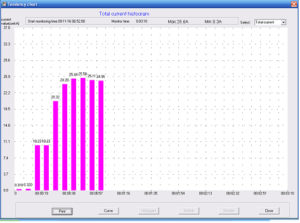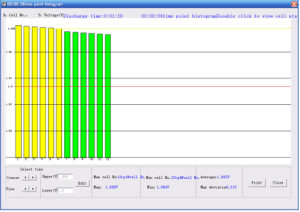 Kongter battery load banks/DC load banks are best solutions for battery capacity testing to view real capacity of battery.
Advantages
Optional wireless DAC enables real-time PC monitor during measurement

It sets 4 conditions for discharge auto shut-down:




Discharge time, discharge capacity, string voltage and cell voltage

Continued discharge available when previous discharge is stop abnormally

Parallel connection of two units for higher discharge current

Assistant discharge to add load to even non-Kongter load banks

Can monitor measurement of other load banks or battery charger

Accurate data measurement and vivid waveforms of PC software

Auto sorting for lag-out batteries during discharge

Safe circuits avoids damage to battery during measurement

Powerful management software for data analysis and report generation

Automatic protection upon over-heating and overload
Specification
Power supply

1). AC 220V/110V, 50/60Hz;




2). DC (from batteries, optional for some models)

Cell type
1). Standard: 1.2V­1, 2V, 6V and 12V


2). Customized: 12V ONLY or other uncommon battery types.

Discharge voltage range

10V-552V




Customized as nominal voltages of 12V, 24V, 48V, 72V, 80V, 110V, 120V, 220V, 240V, 380V and 480V. 

Discharge current range

Single load bank: 10A-600A




Parallel load: 10A-1200A




Current is customized per different string voltage

Accuracy

Current: 1%




Voltage: 0.5% – 0.8%

Resolution

Current: 0.1 A or 0.5%




Voltage: 0.001 V

Sampling Interval

5s –1min

Discharge pattern

Constant current

Display

128*64 pixel LCD

Data transfer

USB, Radio Frequency (for DAC to load bank)

Operation Temperature

0℃~40℃ (32 – 104 °F)

Humidity

5%~90% Relative humidity

Standard

CE marking, EMC standard

Main Unit Dimension2

S: 400 x 177 x 288 mm (15.7 x 7 x 11.3 in)




M: 520 x 202 x 355 mm (20.5 x 8 x 14 in)




L: 555 x 225 x 435 mm (22.5 x 8.9 x 17.2 in)




XL: 603 x 400 x 740 mm (23.7 x 15.7 x 29 in)




XXL:762 x 406 x 737 mm (30 x 16 x 29 in)

Main unit Weight

S: 11 kg (24 lbs)




M: 16 kg (36 lbs)




L: 21 kg (47 lbs)




XL: 42 kg (93 lbs)




XXL: 55 kg (122 lbs)
Note:
Quantity of DAC and cable in standard DAC package are based on 2V, 6V and 12V. For measurement of 1.2V Ni-cd batteries, you will require some more DACs and relevant cables.

Measurement range, dimension and weight vary depending on different models. Please confirm with our sales representative upon orders.

This is just general specification of K-3980 series battery load bank. For detailed specification of each load unit, please click

HERE

.


Kongter battery load banks/DC load banks enjoy unique features for battery capacity testing.
FAQ
Q: What industries is the battery load bank applied for?
A: Kongter covers various industries with its wide range customer-tailored battery/DC load bank models. It includes telecom, power utility, data center, forklift battery maintenance, industries manufacturing and many others. For details, please download the catalog. 
Q: Can I test the battery systems in short time?
A: Depending on different regulations, you could alternatively discharge batteries based on C5, C10 or C20. Shorter discharge time will require higher discharge current for the same unit. Kongter also offer some customized load units with high discharge current. For details, please contact us with your requirement. 
For quick test of batteries to pick up weak batteries from whole string, we will also recommend BT-301 Battery Condition Analyzer for measurement of both battery internal resistance and conductance. Test  can be done in seconds. 

Q: How do I record voltage of each cell in the string effectively?
A: Kongter offers optional Data Acquisition Case (DAC) for each load bank model for recording voltage of each cell in real time during battery load test. With DAC, you could also use the PC software to monitor all measurement data during battery discharge.

Q: What voltage rating does the DAC support?
A: Standard DAC is designed for measurement of 2V, 6V and 12V cells with connection of up to 12 cells each DAC. Kongter also offers customized model for recording of 1.2V, 12V only and other non-standard cell types including lithium batteries.

Q: Can I use PC software for data monitoring if there is no DAC with my load bank?
A: Yes, you can. However, you will not see voltage of each cell. And all measurement data is saved in the load bank automatically even if there is no connection with PC. You could also view the data in load bank during discharge.

Q: If I do not have DAC, what battery type can I discharge?
A: You could discharge any type of battery if there is no DAC. Just set the battery number as ZERO in the menu.

Q: Can the DAC work independently without load bank?
A: Yes, it can. And also it can work along with String DAC to make another product, the BDL-3926C Battery Data Logger.

Q: Can Kongter's load bank work with non-Kongter load banks?
A: Yes, if you have requirement to discharge higher current than max current of non-Kongter load bank, you could use "Assistant discharge" function of Kongter load bank to increase discharge current.

Q: How do I use Kongter's load bank to discharge at higher current?
A: Besides using another customized load model with higher current, you could also use parallel discharge of two units to increase the discharge current.

Q: I am a contracting company, can I have one single load model with wide voltage range for different industries?
A: Yes, Kongter offers load models of LB-2348 and LB-2415 with wide voltage range. If you have different requirement, you could also contact us with your requirement. Click HERE for helpful guideline on how to select the right load bank model.

Q: In the datasheet, I see that most load bank models can discharge down to10V. Does that mean that all load banks can discharge in wide voltage ranges?
A: All load banks can discharge as low as 10V. However, the discharge current at 10V will be pretty small for most models. If you have requirement to discharge at higher current in low voltage, you are suggested to send Kongter your detailed requirement including string nominal voltage and discharge current for each string. If you have different strings to discharge, list all of them.
Click HERE for helpful suggestions on how to select your right battery load bank models.
Kongter provide best support for its battery load bank/battery capacity tester, you are welcome to contact us for questions regarding battery load bank.
Package
Standard parts:
Main unit of load bank

Data View software

Carrying case (for small & medium size models)

Set of 3m/10ft load cables

3m/10ft voltage test leads

PC communication terminal

Ground cable

AC Power cord

USB with backup info

Antenna
 Optional:
DAC package

Current clamp for external loads

Parallel load cable